Indy 4 Retarded News with a Happy Ending (What to Know)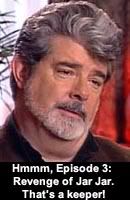 I've been annoyed for years by Lucas' choices but this one takes the cake... Our sources recently got on the phone with the writer of the Indiana Jones IV script to get all the details. Unfortunately the details are extremely disappointing, which could result in the end of the Indiana Jones franchise. Frank Darabont, the writer for such great films as "The Green Mile" and "The Shawshank Redemption," is now fed up with writing scripts that will never see the light of day, and is now completely shifting to directing full time.

The reason for his actions, is that after writing the script for the fourth Indy installment, which dealt with Indy investigating UFOs in the 50s, the script was eventually scrapped. When asked how he felt about that, he replied..."That was the most frustrating of all, and that was the straw that broke the back of me wanting to continue in that line of work. That was terrifically frustrating. I worked for over a year on that; I worked very close with
Steven Spielberg
.

He was ecstatic with the result and was ready to shoot it two years ago. He was very, very happy with the script and said it was the best draft of anything since Raiders of the Lost Ark. That's really high praise and gave me a real sense of accomplishment, especially when you love the material you're working on as much as I love the Indiana Jones films. And then you have George Lucas read it and say, 'Yeah, I don't think so, I don't like it.' And then he resets it to zero when Spielberg is ready to shoot it that coming year, [which] is a real kick to the nuts. You can only waste so much time and so many years of your life on experiences like that, you can only get so emotionally invested and have the rug pulled out from under you before you say enough of that."To make things worse, when asked if he believes the film will be made, Darbont said..."I don't think so. I don't think so. But that's just my opinion, I could be wrong. I just think it's fantastically bizarre that for a project that people have been trying to crack for ten years and have a writer come in and finally crack it and have a director who happens to be Steven Spielberg, one of the greatest directors of all time, and then say, "No, I don't think so." It's just bizarre to me.

I can't get into George's head." Well guess what Frank... no one does. Sadly for us Indy lovers we're going to be apparently strung along and dissed once again by Sith Lord Lucas and his out of touch, lack of inspiration and greedy ass. I don't want to see another film or project supposedly directed by you in my lifetime. I want the last three chapters of the Star Wars story to be directed and worked on my competent directors and films teams. Basically Lucas free. Please Spielberg!!! Save us!!

ADDED NEWS: (Dec 31, 2006)
Our sources have learned more details about the Indiana Jones 4 production after it was announced that George "No Imagination" Lucas gave two thumbs down to a script Spielberg and Ford loved. Now it appears a new script has been approved, a shooting month of June 2007 released and dropping date of May, 2008 has been handed over.

"George, Harrison and I are all very excited," Spielberg said. "We feel that the script was well worth the wait. We hope it delivers everything you'd expect from our history with Indiana Jones."

David Koepp, who has wrote such previous Spielberg projects as Jurassic Park and War of the Worlds, wrote the screenplay that finally got the stamp of approval from Lucas and Spielberg. An earlier screenplay by Frank Darabont had been shelved when Lucas turned thumbs down on it.

Although a spokesman for Spielberg said Monday that no casting has begun, Lucas and Ford have said that they would like to include Sean Connery, who played Indiana Jones' father, Professor Henry Jones, in "The Last Crusade."